Communications: Ensuring Trusted & Timely Information for Your Members During The Pandemic 
With the daily updating on the spread and fight against COVID-19, the CHMS Communication & Marketing Team and Director of Government Affairs are working with our Association Management Team in reviewing, compiling and sharing of important updates and resources for client needs. We are creating social media and website content for you—and making sure it is posted across all your communication platforms.
When CHMS implemented its virtual service, we posted notices on client-association websites, informing members that the association office was now functioning remotely and there for the needs of members: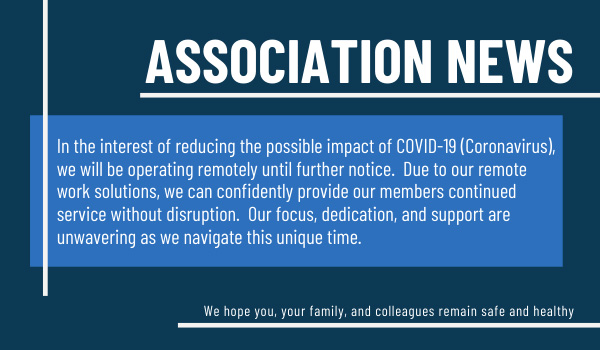 Social Media Posts – Below please find examples of useful posts provided to our client-associations in order to their members handle COVID-19:
Example #1 - Navigating remote work is a challenge within itself, but some of the biggest challenges for employers include workers struggling with managing their time and communication among team members.  Finding a strategy is the key to thriving as a remote worker.

Example #2 - Is working from home new for you?  Are you trying to balance this new challenge while your children are at home?  Take a peek at these tips on how to balance the two.

Example #3 - Over the past few weeks, some have been thrown into a style of work they weren't ready to embrace. Could this lead to future flexibility in the workplace?  

Example #4 - Cheers to Virtual Happy Hours!

Example #5 - Most of us are thinking about our physical health these days, but what about our mental health?

Social Media Tips
During this sensitive time, being thoughtful and transparent is the best thing to do.
Post content relating to how COVID-19 is affecting your industry.  Your followers are more apt to engage when they can relate to the content.
Be sensitive of those that may be struggling financially during this time.
People have down time right now and want to be learning.  Promote webinars and continuing education, teach them about your organization's history, your members, etc.
We're Here to Help You Craft Your Message - If you have a special message that you want to craft for your members, we are here to help you in the drafting of the message, and offer insight on how best to post and distribute your message to your association's community.
Messaging Platforms
E-mail
Newsletter
Website
Social Media