COMMUNICATIONS, PUBLICATIONS, & SOCIAL MEDIA
Marketing/Communications/Public Relations
Frequent and effective marketing and communications are essential to building a dynamic organization with committed members. CHMS uses a variety of methods to engage and inform association members. These include the maintenance and promotion of a dynamic user-friendly website, scheduled email blasts, member alerts, social media, and digital or print newsletters. CHMS develops a complete marketing plan for each organization designed to enhance the visibility of each organization, increase membership and sponsorship support, and reinforce each organization's message. In addition, we remain alert for and seek out earned media opportunities on behalf of our association partners.
Website Management & Maintenance
CHMS will work closely with your Association Management Software (AMS) company, or recommend one to tailor a program that will suit your organization through a platform that is specifically built for your needs. CHMS currently has a working relationship with almost all of the AMS providers.
Additionally, working with an AMS platform, CHMS staff will develop and maintain:
Member & prospect data within the membership database
E-mail lists within the database
Dues renewals & member applications
News updates & blogs
Incoming contact forms & requests
Announcements & e-mail marketing
Event registration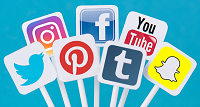 Social Media
Associations are becoming increasingly confident and strategic when it comes to utilizing social media and evaluating its impact. Social Media Marketing Services can help organizations grow brand awareness, develop relationships with members, and foster website traffic.
By analyzing the result of implemented Social Media marketing campaigns, CHMS can tailor-make a marketing approach that will allow your organization to connect with a relevant audience. This in turn will deliver your association's message through diverse channels and facilitate higher engagement rates.
CHMS has years of experience assisting clients with developing, implementing and evaluating social media programs to advance its organizational mission and reach. Find out how CHMS can take your organization's social media marketing efforts to the next level.