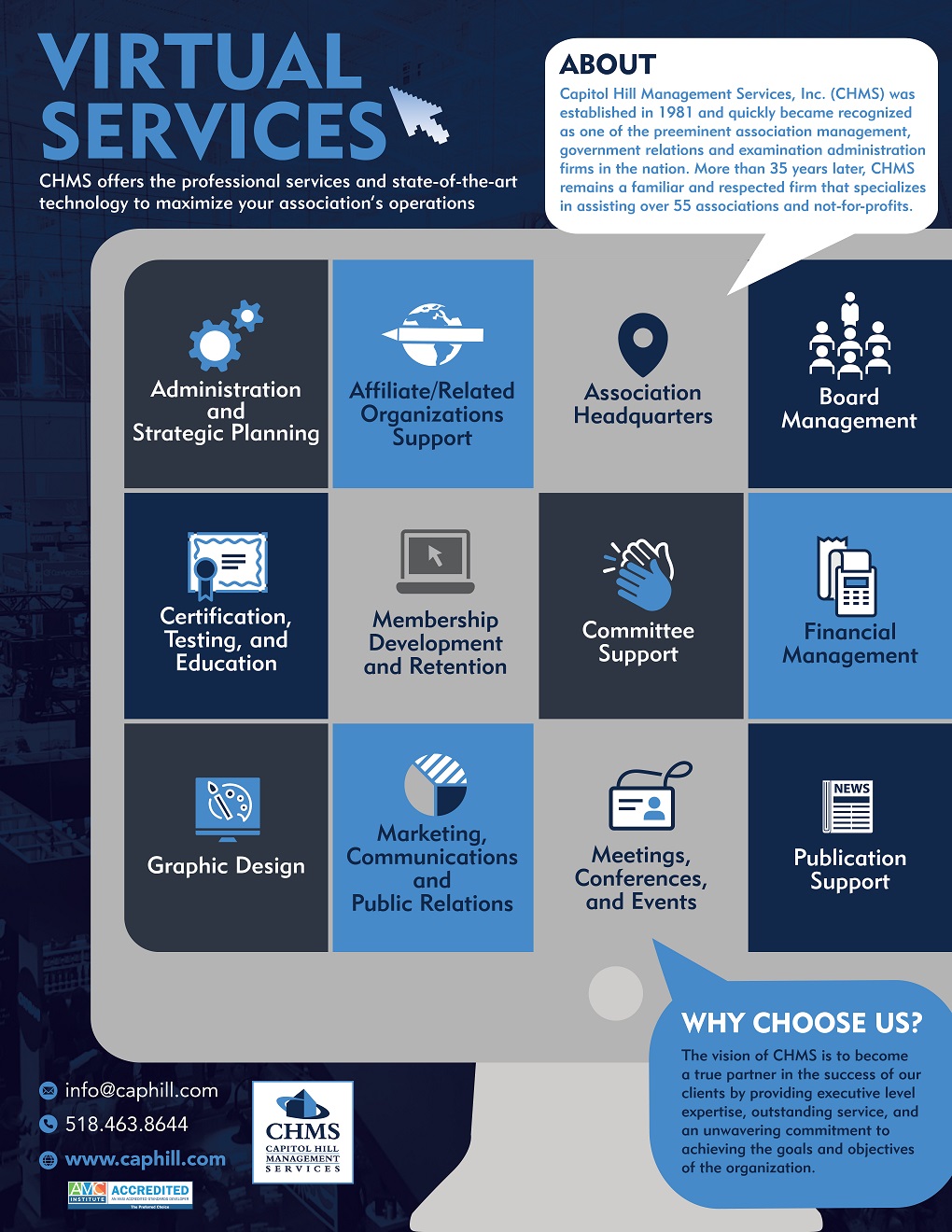 Association Headquarters
CHMS will establish the headquarters of your organization at our offices in Albany, New York or Raleigh, North Carolina and appoint an experienced Association Manager who will report to your Executive Director. Working with your Association Manager will be a team of professionals in areas such as Communications, Financial Management and Conferences and Events. This team approach will ensure that all your needs are met in a timely manner.  
CHMS's state-of-the-art technology will allow us to work with your Executive Director and staff as if we were in the same office.
Your mail will be received in our offices, scanned and forwarded to your Executive Director or appropriate staff members
All calls will be answered in your organization's name and can be transferred directly to your Executive Director or staff
CHMS will provide full technology management with complete IT support, relieving you of all technology management concerns
CHMS manages websites and repositories for documents, implements online surveys, provides member email blasts, manages event registration, processes credit cards and creates and manages discussion forums for our clients
Additionally, our professional meeting facilities will be available to you in both our Albany and Raleigh offices.
Board Management
CHMS provides complete management of Board, Executive Committee and task force meetings on behalf of our clients. This includes arranging the meeting location or conference call, preparing all documents, providing meeting notices, taking and preparing minutes and participating to the extent desired by the Board. CHMS manages all elections, assists in on-boarding of new members and works to ensure optimal utilization of the talents and expertise of Board members.
Administration
CHMS's professional staff is experienced in handling all functions of an organization. We currently provide administrative support to over 50 organizations around the world. We continuously update our technology and review our policies, procedures and operational systems in order to ensure the highest level of excellence and efficiency in our services. CHMS provides meticulous database management, responds to all inquiries in a timely manner and provides courteous and efficient services to members.
Membership Development and Retention
CHMS currently provides membership support to dozens of associations. This includes membership/member retention strategies, new member attraction initiatives and events. CHMS has successfully assisted dozens of organizations to stabilize and grow their membership. 
Meetings, Conferences, and Events
CHMS successfully plans and produces over 300 conferences, trade shows and events throughout the globe and is accredited by IATAN, the International Association of Travel Agents Network.
We will provide the following services:
Research venues and negotiate contracts
Create event budget and timeline
Develop sponsorship packets and provide outreach to potential sponsors
Engage speakers and provide speaker contracts
Produce promotional materials and promote event
Produce event materials
Provide follow-up and support for speakers
Provide follow-up and support for vendors
Provide outreach and follow-up to potential vendors
Manage registration
Oversee Food and Beverage
Provide onsite management of the event
Provide all necessary services to ensure a quality event
Financial Management
CHMS offers a level of accounting expertise not often available to non-profit organizations and associations at a cost-effective price. CHMS uses an online banking program which allows your Treasurer or President to retain complete authority and control over your finances while the day-to-day operations are provided by a skilled accounting team.
CHMS's Bookkeeping and Accounting Services will assist you in securing the financial integrity of your organization. Supervised by our Vice President for Finance & Operations, CHMS will provide a complete package of services.
Provide membership billing
Manage accounts receivable and accounts payable
Prepare monthly financial statements
Provide timely and accurate grant reporting
Process credit cards
Assist with budgeting
Advise leadership on association financial matters
Publication Support
CHMS offers full administrative support to our member publications. We typically coordinate with a third-party publisher, providing coordination and logistics support. CHMS is also responsible for the production of digital and print newsletters for the majority of our association partners. 
Marketing, Communications, and Public Relations
Frequent and effective marketing and communications are essential to building a dynamic organization with committed members. CHMS uses a variety of methods to engage and inform association members. 
Maintenance and promotion of a dynamic user-friendly website
Schedule email blasts
Association newsletters
Social media
Digital advertisements
Press Releases
CHMS develops a complete marketing plan for each organization designed to enhance the visibility of each organization, increase membership and sponsorship support, and reinforce each organization's message. In addition, we remain alert for and seek out earned media opportunities on behalf of our association partners.
Graphic Design
Our diverse team of graphic design professionals specialize in visual storytelling for associations. They not only create and maintain client brands but strive to remain innovative and provide eye-catching designs for:
Membership campaigns
Conferences and events
Logos
Websites
Social media
Infographics
Publications
Annual reports
The graphic design team weaves your association's story through all aspects of your visual communications. And, because we specialize in working for associations, we are sensitive to our client's budget and time constraints and strive to deliver quality design for every budget.
Certification, Testing, and Education
CHMS manages continuing education, certification, accreditation and professional licensing for a variety of professions. We can provide your organization with a complete testing or certification program designed specifically to meet your professional requirements.
Certification, Testing, & Continuing Education services include:
Pre-Examination Administration
Examination Preparation and Production
Site Coordination
Post-Examination Administration
Reports and Analysis
Continuing Education Management
Administrative Services
Committee Support
CHMS works with many national and statewide organizations to provide strategic, administrative and financial management support to committees, chapters, and regional groups.
Affiliate/Related Organizations Support
CHMS understands the importance of building and maintaining solid relationships with related organizations and works to support those efforts.
Strategic Planning
CHMS has provided strategic planning services to dozens of associations. We begin with an assessment of the organization's current status, review opportunities for refinement, and develop strategies to achieve goals and objectives. Throughout the year, the Executive Director will continuously review established goals and progress.