New York State Government Resources & Information in Response to COVID-19
Last Update: 6/7/21
Governor Cuomo's concluded his daily COVID-19 press briefings on June 19, 2020. He is now holding Zoom updates during the week. Please scroll below to find the latest updates from New York State government concerning the pandemic.
New York State's Coronavirus Website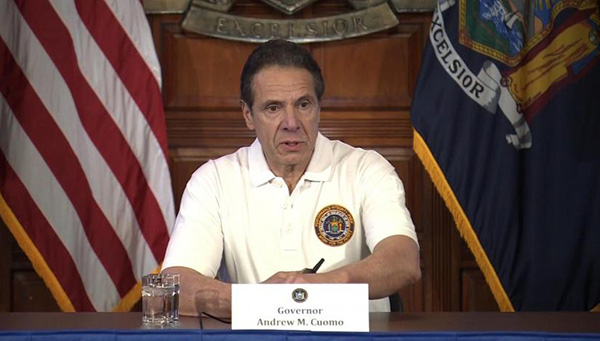 LATEST NEWS & INFORMATION - 6/7/21 
From Governor Cuomo's 6/7/21 briefing:
Vaccinations 
19.5 million doses have been administered statewide.
10.9 million individuals have received at least one dose.
68.6% of adults have received at least one dose.
9.4 million individuals are fully vaccinated.
The bottom 10% of zip codes are below 36.3% vaccination rate.
Vaccination efforts will focus on zip codes with low vaccination rates.
The state will open vaccine sites in zip codes with low rates.
Governor Cuomo called on schools to vaccinate children. 
Announcements 
Reopening guidance will be lifted when the state vaccination rate hits 70%.
- This will include social distancing, capacity restrictions, cleaning and disinfecting.
- Mask requirements will remain in place, consistent with the CDC.
CDC guidance for schools will not be changed for several weeks.
Schools in NY will be allowed to let children take off masks outdoors.
The state will align school and camp guidance. 
From the Q&A 
On guidelines and schools, what rules exist at this point?
Governor: The state looked to the CDC for guidance.
Zucker: After speaking to the CDC, the state decided to lift mask restrictions outdoors.
Mujica: Large venues were verifying vaccine status, masks and social distancing for unvaccinated individuals. 
Why do children have to wear masks indoors?
Governor: The CDC has to maintain strict guidance because there are states with higher positivity rates.
DeRosa: School is about to end, and it would be easier to focus on restructuring classrooms for the Fall.
The Governor's Office also released the following Executive Order:
Highlights
Extends state of emergency until July 5, 2021. 
ADDITIONAL NEW YORK STATE RESOURCES
Important Information About Unemployment/Relief for Workers Under the CARES Act
Effective March 22, 2020, pursuant to Governor Cuomo's Executive Order 202.8, 100% of the non-essential workforce must work remotely. Click here for the latest information on Essential Business or Entity Designation.  Construction has been updated. Click here for the update. 
UPDATE: Guidance for "essential" businesses has been updated on the ESD website and includes additional exempt industries.  
REMINDERS
If your business is part of an exempt industry/function on the essential list then you do NOT have to submit an application.
Even if your business is deemed essential, please take all practical steps to reduce density by allowing remote working and implementing social distancing. 
From NY Empire State Development (ESD)
DOL is also reminding businesses of its Shared Work Program that can provide an alternative to laying off employees during business downturns by allowing workers to work a reduced work schedule and collect partial unemployment insurance benefits for up to 26 weeks. Instead of cutting staff, you able to reduce the number of hours of all employees or just a certain group:
https://www.labor.ny.gov/ui/employerinfo/shared-work-program.shtm 
---
NYS is waiving mortgage payments for 90 days for financial hardships
No negative reporting to credit bureaus.
Grace period for loan modification.
No late payment fees or online fees.
---
NYS is asking all psychologists and therapists willing to volunteer to contact: www.health.ny.gov/assistance (Electronic Help Center) 
---
HELPFUL LINKS
Executive Orders Pertaining to the Pandemic & State Government Actions
Empire State Development - Offers a web portal and FAQ page for individuals and businesses with business-related COVID-19 issues and questions.
COVID-19 Community Contact - Your local health department is your community contact for COVID-19 concerns.   
E-Mail COVID-19 Updates from NYS - Sign-up by clicking here. 
New York State's Coronavirus Website 
---
ARCHIVED UPDATES
6/7/21 Updates

5/27/21 Updates

5/17/21 Updates

5/11/21 Updates

5/10/21 Updates

5/3/21 Updates

4/29/21 Updates

4/28/21 Updates

4/19/21 Updates

4/15/21 Updates

4/5/21 Updates

3/30/21 Updates

3/24/21 Updates

3/22/21 Updates

3/18/21 Updates

3/9/21 Updates

3/3/21 Updates
3/2/21 Updates

2/24/21 Updates

2/19/21 Updates
2/10/21 Updates

2/8/21 Updates

2/5/21 Updates

2/2/21 Updates
2/1/21 Updates
1/29/21 Updates
1/27/21 Updates
1/25/21 Updates
1/22/21 Updates
1/21/21 Updates
1/18/21 Updates
1/15/21 Updates
1/9/21 Updates
1/7/21 Updates
1/5/21 Updates
1/4/21 Updates
12/31/20 Updates
12/23/20 Updates
12/18/20 Updates
12/17/20 Updates
12/16/20 Updates
12/9/20 Updates
12/7/20 Updates
12/3/20 Updates
12/2/20 Updates
11/30/20 Updates
11/19/20 Updates
11/12/20 Updates
11/2/20 Updates
10/26/20 Updates
10/21/20 Updates
10/20/20 Updates
10/15/20 Updates
10/7/20 Updates
10/6/20 Updates
10/5/20 Updates
9/30/20 Updates
9/24/20 Updates
9/21/20 Updates
9/14/20 Updates
9/9/20 Updates
9/8/20 Updates
9/3/20 Updates
8/24/20 Updates
8/19/20 Updates
8/17/20 Updates
8/14/20 Updates
8/7/20 Updates
8/3/20 Updates
7/31/20 Updates
7/29/20 Updates
7/24/20 Updates
7/23/20 Updates
7/22/20 Updates
7/21/20 Updates
7/17/20 Updates
7/16/20 Updates
7/13/20 Updates
7/8/20 Updates
7/6/20 Updates
7/1/20 Updates
6/29/20 Updates
6/25/20 Updates
6/24/20 Updates
6/23/20 Updates

Governor Cuomo completed daily briefings on June 19th--so subsequent archived updates are based on important announcements or additional briefings held by the Governor. 

6/19/20 Updates
6/18/20 Updates
6/17/20 Updates
6/16/20 Updates
6/15/20 Updates
6/14/20 Updates
6/13/20 Updates
6/12/20 Updates
6/11/20 Updates
6/9/20 Updates
6/8/20 Updates
6/7/20 Updates
6/6/20 Updates
6/5/20 Updates
6/4/20 Updates
6/3/20 Updates
6/2/20 Updates
6/1/20 Updates
5/31/20 Updates
5/30/20 Updates
5/29/20 Updates
5/28/20 Updates
5/27/20 Updates
5/26/20 Updates
5/23/20 Updates
5/22/20 Updates
5/21/20 Updates
5/20/20 Updates
5/19/20 Updates
5/18/20 Updates
5/17/20 Updates
5/16/20 Updates
5/15/20 Updates
5/14/20 Updates
5/13/20 Updates
5/12/20 Updates
5/11/20 Updates
5/10/20 Updates
5/9/20 Updates
5/8/20 Updates
5/7/20 Updates
5/6/20 Updates
5/5/20 Updates
5/4/20 Updates
5/3/20 Updates
5/2/20 Updates
5/1/20 Updates
4/30/20 Updates
4/29/20 Updates
4/28/20 Updates
4/27/20 Updates
4/26/20 Updates
4/25/20 Updates
4/24/20 Updates
4/23/20 Updates
4/22/20 Updates
4/21/20 Updates
4/20/20 Updates
4/19/20 Updates
4/18/20 Updates
4/17/20 Updates
4/16/20 Updates
4/15/20 Updates
4/14/20 Updates
4/13/20 Updates
4/12/20 Updates
4/11/20 Updates
4/10/20 Updates
4/9/20 Updates
4/8/20 Updates
4/7/20 Updates
4/6/20 Updates
4/5/20 Updates
4/4/20 Updates
4/3/20 Updates
4/2/20 Updates
4/1/20 Updates
3/30/20 Updates
3/29/20 Updates
3/28/20 Updates
3/27/20 Updates
3/26/20 Updates
3/25/20 Updates
3/24/20 Updates
3/23/20 Updates
3/22/20 Updates
3/21/20 Updates
3/20/20 Updates
3/19/20 Updates
---